| | |
| --- | --- |
| | MobiuSolar...a Global Presence in the Green Energy Space |



MobiuSolar is a full service Green Energy Project Provider MobiuSolar Corporation is a Federally Incorporated Canadian Company, established in 2010 by Granite Management, a Canadian management consulting company (in business since 1991).

Our Corporate Head Office is located in London, Ontario, Canada, and we currently have a branch office in China, as well as dedicated associates in Germany and the United States.

We have Strategic Partners and Associates in Canada, Germany, Spain, France, Italy, China, Chile, Honduras and America.

MobiuSolar provides its Commercial and Utility-scale Solar, Wind and Hydro Project clients with :
Project Financing
Equity Partners
Qualified Project Buyers
Long-term Financing
EPC Services
Supply of Tier 1 PV Panels, Inverters, Mounting Structures and other system components
The MobiuSolar Management Team

Thomas H. Soper is the President and CEO of MobiuSolar Corporation.

Tom has owned and operated Granite Management since 1991, a Company involved in Trade Facilitation, International Education Partnerships, Online Sales Programs and general business consultation services.

Prior to the formation of Granite Management, Tom served as the National Marketing Manager (Canada) for Harris/3M, as the National Sales Manager, Business Products (Canada) for Radio Shack and as the Controller of Knechtel Furniture, among other senior corporate roles.
---

Dave Broughton is the Chief Financial Officer of MobiuSolar Corporation.

After graduating from the University of Western Ontario in Honours Economics, and earning a Chartered Accountants degree with Ernst & Young, Dave joined an Auto Parts Distribution company in London, Ontario with a volume of $10 million. Over his 25 years as Controller of that Company, Dave helped to build this business into a major Canadian Auto Parts supplier with sales of over $250 million.

Dave is an active member of the Financial Executive Institute, the Ontario Chamber Of Commerce, and the Canadian Professional Sales Association.
---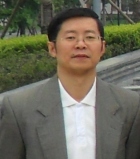 Jimmy Yang is the General Manager of China Operations for MobiuSolar Corporation.

Mr. Yang joined the Granite Management team in China in 2009, and played a prominent role in the development of the Company's Trade Facilitation business, and its Education Partnerships business (through the International Education Associates Division).

Mr. Yang has broad business management experience, both in China and in North America, in the areas of Urban Planning, Education Institute Operations and Corporate Marketing.
---